Elmer Articles
---
"Antenna Length Chart" submitted by Soulin KK6VLV

" First Email to New Hams" by Jonathan Peakall KK6RPX"

"It Could Happen" by Percy Cartwright KW6AR

"Antennas: Rules of Thumb for Beginners" by James R Duffey, KK6MC/5

"Programming a Baofeng UV-5R Manually" written by KJ6ZVS

"Programming a Wouxun KG-UV6 Manually" written by KJ6ZVS

"Baluns and Ununs" by KD8OUT

---
These are interesting 'Elmer' articles that originated on ABARC's website.



"External Power Sources for Your HT" written by W6WTI

"New License? Now It Is Time to Buy a VHF Radio" written by W6WTI

---
Homebrew Antenna Fun
Jonathan (KK6RPX) invited a group out to his place on Albion Ridge Saturday March 7th, to see what he was accomplishing off grid and to get some instruction on homebrew antenna construction. Len (WA6KLK) brought a truckload of different antenna styles and configurations. Don (KJ6ZVR) and I (KJ6ZVS) were there with coax, connectors and a collection of books to browse through. Rich (KD0JUK) came to lend a hand setting up the display antennas and to learn with Jen and Slyvia in tow. Joe (KE6AWC) and Marlene (KF6CBH) dropped by to enjoy the talk and visit. Rense (KK6PEE) video taped the entire day so there would always be a record for future use.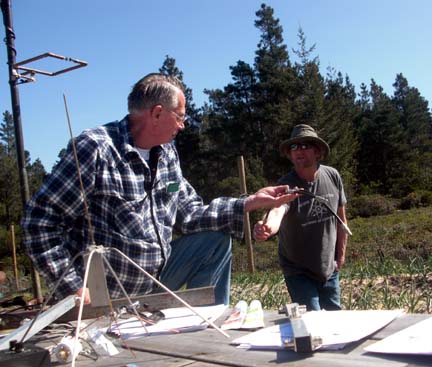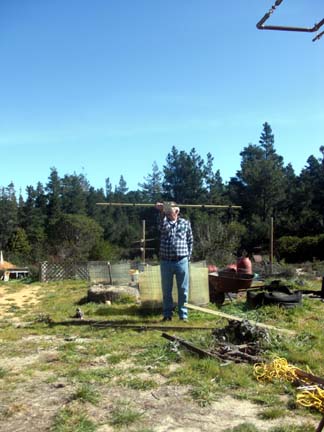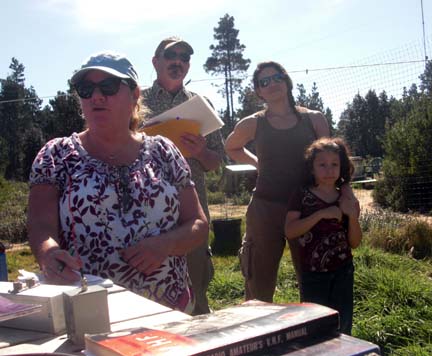 We were treated to discussions on building j-poles, ground planes, yagis, loops, dipoles, power dividers and much more using the KISS principle. Getting differnt types of coax, how to compensate for the differences, and finding articles for informational 'how-to's in not only books and periodicals but on the internet. Showing everyone that the hobby can be accomplished with a minimal outlay of funds when being resourceful. Remember scavanging one persons 'junk' can turn into a lot of savings when building homebrew antennas keeping the CFO happy!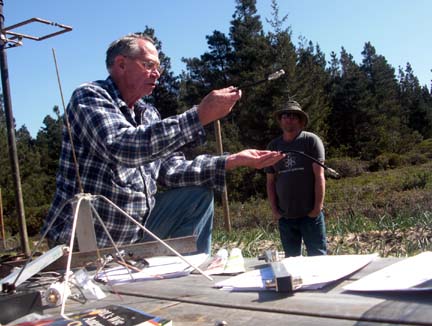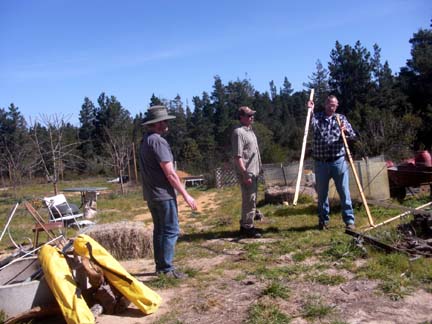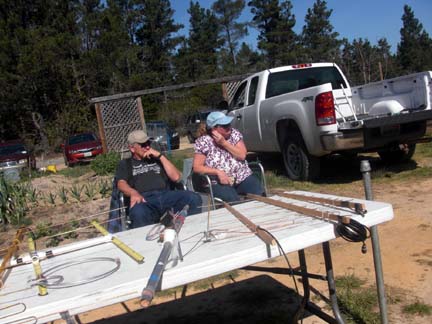 After a short break and refreshments an ICOM 706 was connected to a battery and beacons were looked for; demonstrating the effectiveness of the antennas. My homebrew NVIS portable dipole was strung between a couple of fence posts and with about 50W we logged into the Jefferson Noontime net on 40M. Then with just the unclipping of a couple alligator clips we received a station in Alberta on 20M showing the effectiveness of simple wire antennas and experimenting with them.
Thanks go to Rense KK6PEE, for filming Len's impromtu presentation and editing it for everyone to enjoy.
---