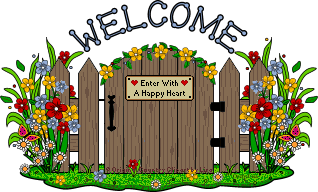 Join the YL Net Thursdays @ 7pm on the Mendocino County linked repeater system
---
.






In landline railroad telegraphy, operators traditionally had referred to each other as OM ("old man"). The term YL ("young lady") was coined in 1920 by the American Radio Relay League for young ladies of all ages, as "OM will not fit and OL would certainly be most inapplicable."

The Radio Act of 1912 also required radio amateurs to be licensed. Gladys Kathleen Parkin (September 27, 1901 - August 3, 1990) was one of the earliest women to obtain a government issued license. In 1916, while a fifteen-year-old high school student at the Dominican College in San Rafael, California, she obtained a first class commercial radio operators' license with the call sign 6SO.

The Young Ladies' Radio League, a US-based group created expressly for women in amateur radio, was established in 1939 with membership both in North America and worldwide. The CW abbreviation "33", which means "love sealed with friendship and mutual respect between one YL and another YL", was coined by Clara Reger, W2RUF and adopted officially by YLRL in 1940.

A poem about the origin of the YL 33 was written in honour of Clara Reger and her accomplishments both in the establishment of the YLRL and her longtime efforts to teach Morse code to new operators.
"Birth of the Thirty-Three"
Clara had her ticket
She also had a rig
Because she was just startin
It wasn't very big.
She slowly tuned the crystal,
And watched the meter drop.
Then tapped the key a couple times
To be sure it wouldn't stop.
Now everything was ready.
She called a short CQ
And received an answer
On thirty-six sixty-two.
They chewed the fat 'bout stuff and things.
'bout dresses, work and dates.
They finally called it QRT
The girl sent eighty-eights.
Clara thought it a might funny
Whether it be Miss. or Mrs.
To end a perfect QSO
By sending "Love and Kisses"
It sounds too sentimental;
Just a little too much "goo"
To be sending "Love and Kisses"
To a girl the same as you.
For an entire week she pondered;
Wouldn't even touch the rig.
She pushed her slide rule by the hour,
Employing "logs" and "trig".
She added and subtracted.
What could the answer be?
To reach a happy medium
Twixt eighty-eight and seventy-three.
Clara finally looked up from her work
All smiles and not forlorn.
Twas July in Nineteen Forty
That thirty-three was born.
There's no real definition
But it's meaning is known well.
It's how a YL says good evening
To another friend YL.
~Author Unknown
---
~Recipes~
Egg Plant

Mrs. Field's "There's-Is-No-Such-Thing-As-Too-Much-Chocolate-Pie"

Cranberry Upside Down Cake

Apple Dumplings

Zucchini Chile Cheese Casserole

---
2017 Santa Ornaments
by Joyce KJ6ZVS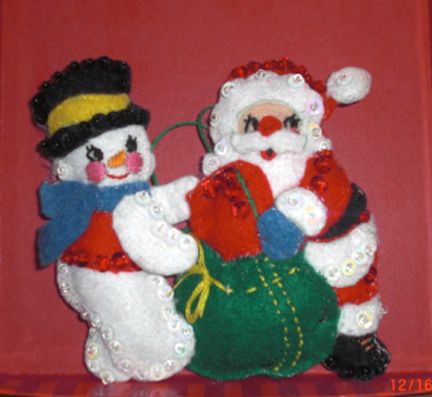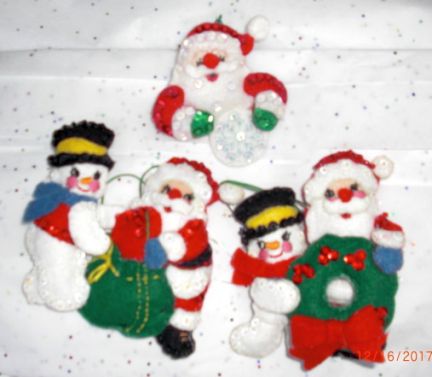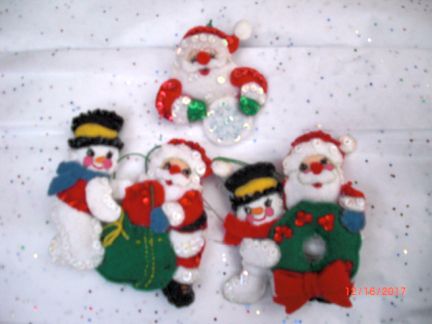 Switch Board
by Joyce KJ6ZVS



Anticipating tower work being done Sat 9/3 I decided I needed a little less clutter on the radio desk. Having more options as to what antenna could be used at any one time, meant I would be jumping up to locate the proper switch and switch to another antenna. I decided I needed an assembly that would allow me to switch between beams, j-poles, or the new vertical triband antenna being installed. Don cut a piece of plywood to the dimensions I needed and I designed and wired a clean layout for ease of use, mounted the panel to the side of the radio desk well within reach of my chair. Now switching between the antennas is easy!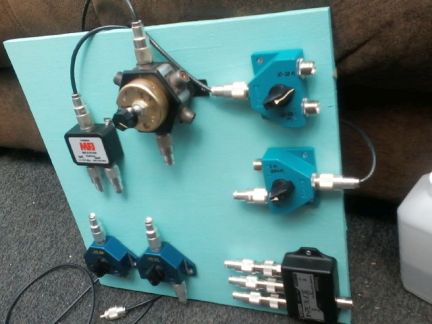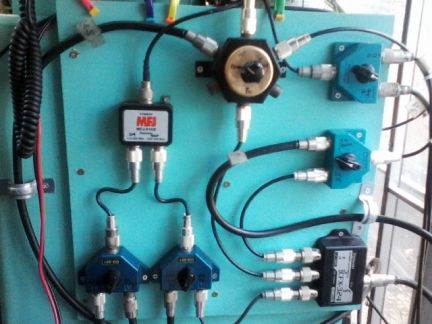 ---
Spare Time Project
This is what has been occupying my (KJ6ZVS) spare time this last couple of months, well, besides the garden which is coming along very nicely as well. This quilt is close to being finished and then I'll be off on another needlework project. Ok, purists might say this is not radio related, BUT, I listen to the radio while working on it since I'm in the house and often have a conversation or two!
---
YL's Flagpole Antenna Project
This is a project that Karen W6KMH and Jan W1ALA built when they decided they needed a steath antenna at their QTH.


We used two 4x8 treated fence posts, 2 bags of cement, 2 8ft ground rods (1 at base of antenna and 1 next to the house for the shack), industrial pvc, SGC 237 outside auto tuner, 25ft flagpole, 14 gauge flex weave wire, 24 gauge solid copper wire (for a total of 53ft), 1 plastic button, 30 lb test monofilament, offset copper lug and stainless hardware, 10ft KISS counterpoise and 4x8 privacy lattice.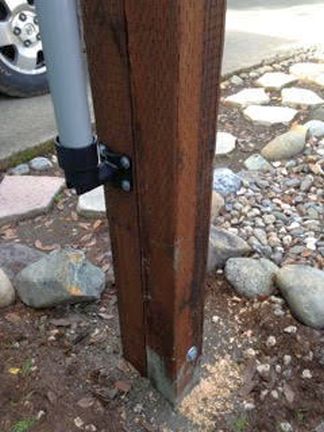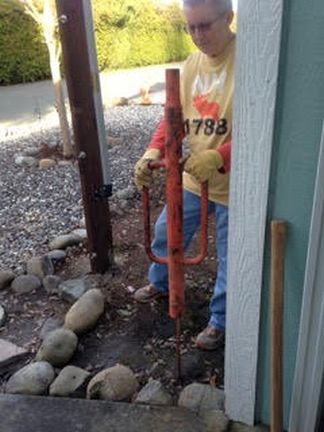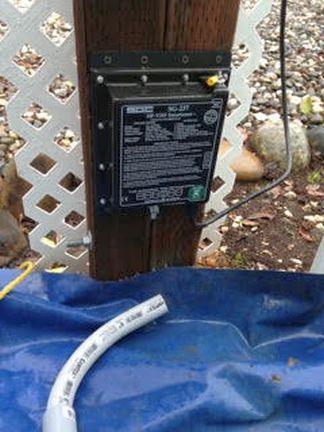 The flex weave wire travels from the tuner up the inside of the pole and comes out the side of the ball. This wire and the copper wire were soldered together and inserted into the offset lug. The copper wire (24 gauge makes it almost invisible) runs at approx 60 degree angle off the ball and attaches to the side of the rain gutter. The last 10ft is monofilament (copper wire and mono attached to each other with button), this gives the copper wire a little more height. The KISS counterpoise is buried under river rock.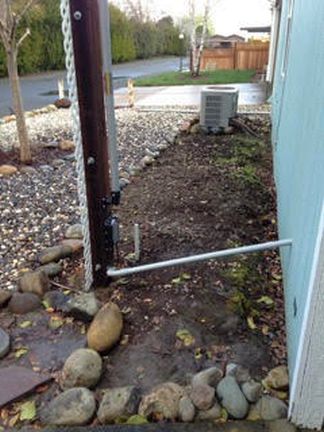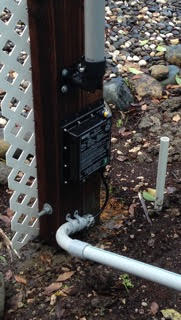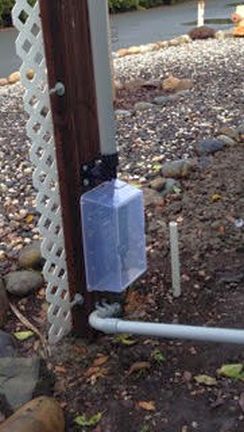 We live in a mobile home park and had to be as stealth as possible with our HF antenna. We put up the 2 meter j-pole about 6 months ago and got away with it .... so we tried our luck with this HF configuration. It has been up two weeks now and nothing heard from the 'antenna police'.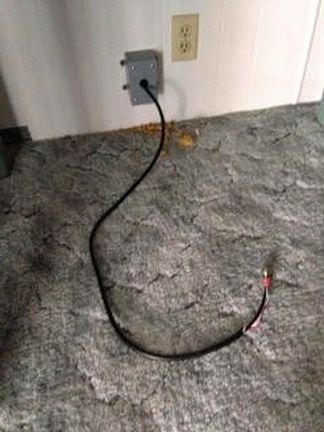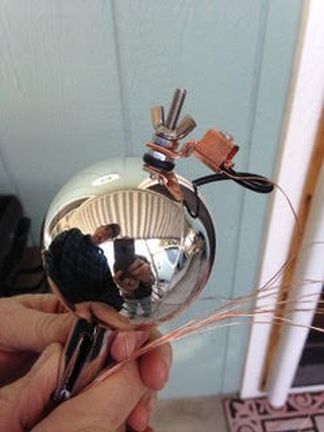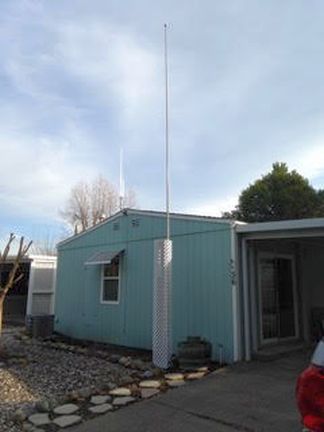 Karen (W6KMH) and I (W1ALA) are exploring, learning and having a blast on HF. I encourage all YLs to experiment with HF with a local ham or attend Field Day in their area and consider getting involved in local radio clubs. It is an excellent opportunity to see and hear HF in action ..... and a chance to sit down and give it a try. That was what I did last year here in Lake County, which encouraged me to upgrade to General and then Extra.
Karens inspiration to upgrade to General was wanting to make an HF contact with her grandfather's dear friend Hal (K7RQ) in Portland, a licensed ham since 1948. She never knew her grandfather but Hal has been gracious enough to Elmer and share stories about her grandfather.


---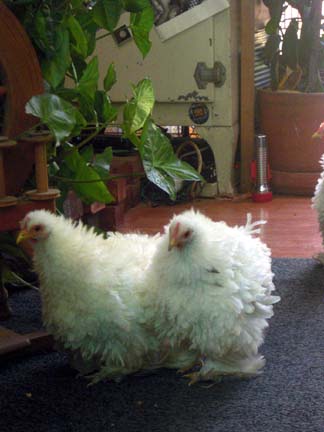 Peepers .... for those of you that are curious.


---